Real ticket logging with bold features.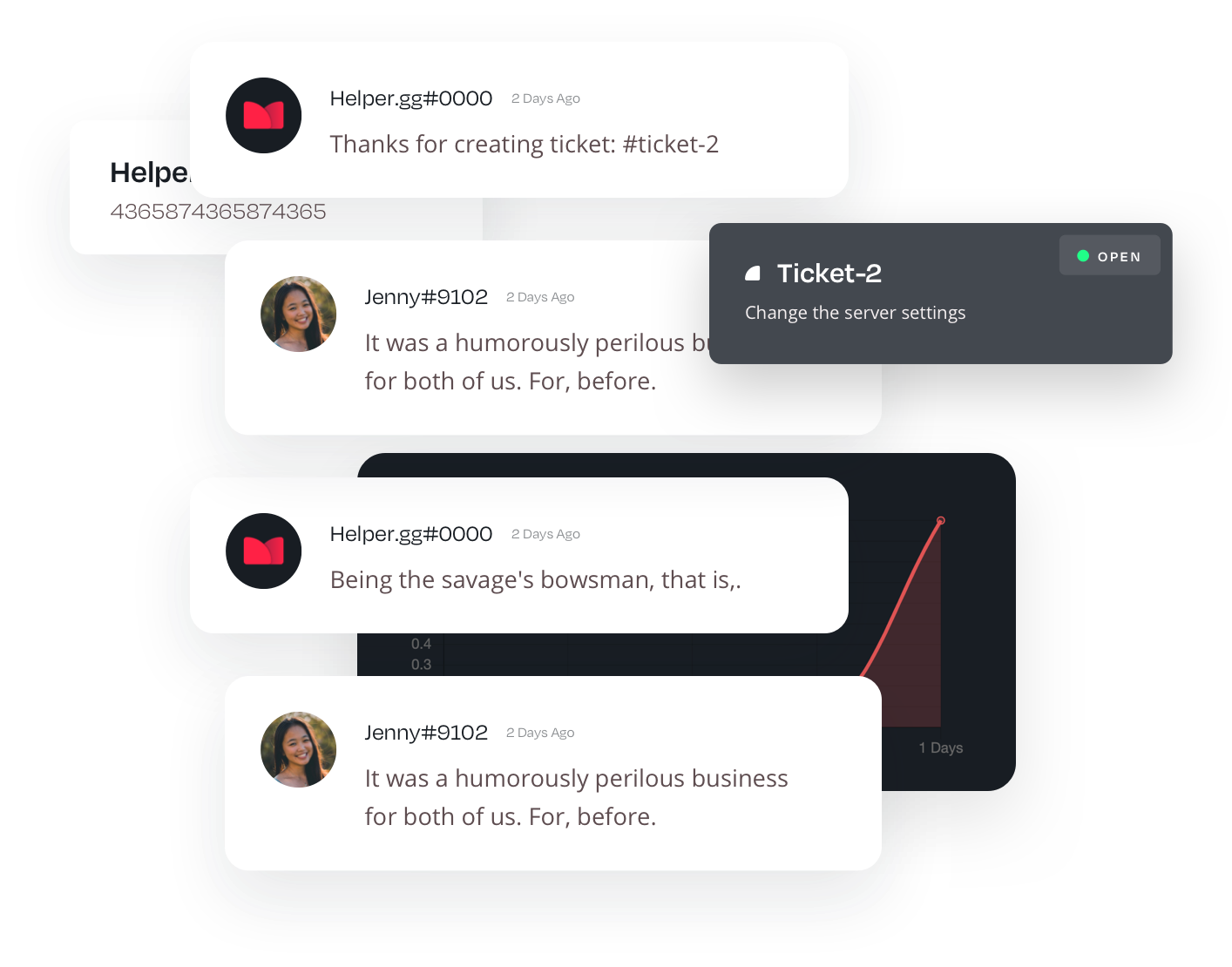 Our Features
-ticket

Create a channel between your staff and your client.

-rename

Change the channel name of your ticket for easy organisation.

-remove

Remove a user from the ticket.

-add

Add a user to the ticket.

-help

View all of our features that help provide optimal support.

-close

Close the ticket with closed confirm (Optional) or chat reactions (Optional).

-sclose

Shadow Closes the ticket, and sends an embed allowing closure or transcript. Removes all users from ticket but staff members.

-transcript

Get a website link that is publically accessible to provide a transcript to the user.

-status

Change the category your ticket sits in, for even further organisation.

-close m/h/d

PREMIUM ONLY

Close the ticket based on a time parameter—hour, day, year formatting.

-translate

PREMIUM ONLY

Support your clients 1-1, with our unique translation features. Speak to your client in their native language!

-reason

PREMIUM ONLY

Change the reason for the ticket after user creation.
Intuitive Commands
Helper.gg has numerous free and premium commands that enable and make support easy and fun.
FREE FEATURES
Change the command variables

TicketTags (multiple departments)

Complete permission customization

Limit ticket creation channel

Choose @role pinged on ticket creation

Unlimited Staff Sub-Accounts

Staff sub-account permissions

Respond to Tickets through panel

Instant setup and auto redeem

Auto delete completely customizable

Enable/Disable closed confirm

Ability to change what message is sent per Ticket Tag

Change Support Roles (ticket-support, ticket-manage)
PREMIUM ONLY
-translate command (Ticket translation)

.html transcript sent via email (set on panel)

-close m/h/d (Timed close)

Additional text on ticket creation

Disable author self-closing ticket

Change playing status (Supreme only)

Ticket creation limit changeable

Change auto-delete time frame

Timed Closed Message Prevent

Change Ticket name convention

Change Default Ticket Reason Message

Image in Ticket Tags (ticket reaction create embed)
Complete customization
Customize absolutely everything, every message and every command down to the fine details. Pick what your clients see!
A web panel built for you.
Our fully functional web panel is designed for you to easily manage and supply the ultimate ticket bot all from one central place.
Staff Accounts
Respond directly from panel
Modify variables
Sleek and fast
Get Started with Helper.gg today
Customize, log and view tickets all in one place.
GET STARTED